Time-Saving Exercise Bike for Computer Users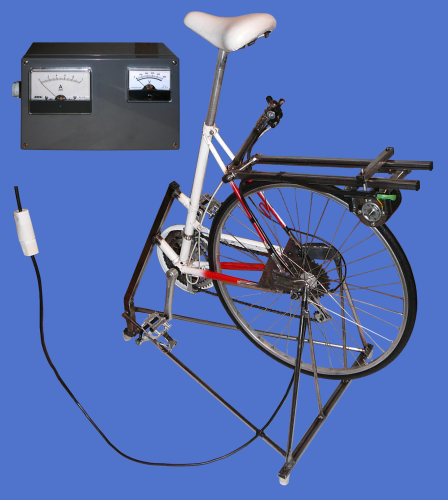 Replace Belly with a Sixpack without a Time Investment
Lots of people today spend large amount of time in front a computer without moving. That's bad for their bodies. But now, with Twibright Exciter, Internet surfing can have similar effect on your fat level and aerobic fitness as wave surfing. Exciter is an exercise bike designed to be ridden when using a computer. It can be connected to power a laptop, LCD monitor or a desk lamp and this way the user has a great motivation to continue the exercise.
Have Fun riding an Induction Generator with Your PC
We designed Exciter with SEIG, Self Excited Induction Generator. Ordinary 3-phase squirrel cage asynchronous motor and some capacitors create a difficult to understand generator circuit. When Exciter is pedaled above critical speed, positive electromagnetic feedback is established and powerful voltage oscillation appears. This manifests as three-phase sine wave on the motor output. This is rectified with 6 diodes so that all three windings can work together into a single load. Exciter then produces up to 120 watts of line voltage DC power, which can be used to power computer or laptop power supply, switch mode AC/DC adapters, fluorescent or incandescent lightbulb.
Advantages of 3-Phase Self-Excited Induction Generator
Inherent sutomatic shutdown on overload or short circuit without a fuse
Three phases provide constant total torque intependent of angular position of the shaft. Compared to a single-phase motor, there's no cogging effect so pedaling is smooth and no vibrations are created.
No electric brushes that would create carbon dust
Certain voltage self-regulation
SEIGs are used in small wind and water powerplants.
Abdominal Car Battery
Let's assume input mechanical power of 150W (medium strength bicycle ride). Let's assume 50% energy efficiency of the mechanic to electric conversion. 1 kg of human fat tissue contains 7800 kcal(Wikipedia: Calorie). 1 kcal is 4184 Joules. Human muscle efficiency is from 14 to 27%( Wikipedia: Muscle), let's assume 20%. One minute pedalling consumes 150W*60/0.2=45kJ of chemical energy. That is 45,000/7800/4184=0.0014g of fat. That means, a gram of fat can power a 75W light bulb for 43 seconds!
| | | | | | |
| --- | --- | --- | --- | --- | --- |
| Fat reduction goal | Pedalling time | Time investment | Gym admission cost | Energy saved | Car batteries (45Ah 12V) |
| 1g | 43 seconds | 0 | 0 | 0.9 Wh | 0 |
| 1kg | 11.9 hours | 0 | 0 | 0.9kWh | 1.6 |
| 10kg | 5 days (net) | 0 | 0 | 9kWh | 16 |
You can see that 625 grams of fat store the same power as the whole heavy car battery! If you want to lose excess fat while sitting at a computer, then you have to discharge all these abdominal car batteries into your computer.
Transform Your Fat Into Lethal Voltage
With low values of exciting capacitors and protection disabled, it's not uncommon to crank up over 500 Volts D.C. That's a pretty lethal voltage! The normal voltage (Europe) is 300 volts for computers, switched mode adapters and compact fluorescent lamps. 230 volts is for incandescent bulbs. Therefore Exciter has a built-in protection which doesn't allow the voltage to go over 357 Volts D.C. (absolute maximum for computers etc.). Transformer-based AC/DC adapters will not work (shut the machine down). The voltage is controlled by the capacitor value and pedaling speed. Higher capacitors produce less voltage. The capacitors have to be configurable or tried out to find a comfortable speed range. Higher capacitors also make the machine less efficient at a given voltage, but the voltage regulation is then more stable. The advanced version of Exciter has the capacitors configurable by switches. This configuration should work, but isn't tried out yet.
Exertion Level Adjustable in Wide Range
First adjustment can be done by selecting suitable load. The easiest is a 8W fluorescent lightbulb which doesn't take almost any power but shines quite a lot. Then come 25W, 40W, 60W, 75W and 100W incandescent bulbs. My laptop draws 30W when running without battery. Light difficulty can be used to warm up. Medium difficulty comparable to easy bicycle ride is optimal for fat burning. High exertion, comparable to full power sustained bicycle ride, is suitable for improving aerobic fitness. If you have a heart problem consult your physician first.
Second adjustment can be done with the excitation capacitors. More microfarads means harder pedalling at a given voltage and the motor is heating up more, but the output voltage is more stable. Less microfarads give lighter ride but need more attention to keep the voltmeter needle at a given mark.
Building Instructions
The mechanics is done from an old road bicycle, an asynchronous motor of unspecified dimensions, and plastic box of unspecified dimensions. Unfortunately every such part is different so we include only rough outline for the mechanical part.
Tools required
Welder
Grinder
Metal saw
File
Set of tiny files
Drill
Ohm-meter
3mm drill bit
Possibly other larger bits
Cleaning kit for bicycle chain
Material required
An old road bicycle with narrow wheels where slick tyres can be mounted. Only the rear half has to be OK. Preferrably with derailleur.
Toe clips and toe straps for pedals
Three-phase squirrel cage asynchronous motor, from 60W to say 200W, suitable for your national voltage. External rotor type of about 7cm diameter is highly preferred.
If your motor is an internal rotor type, a drum-shaped pulley without groove for the shaft which can ride on the tyre. Preferred diameter 7cm. Including the fastening element.
Slick tyre and suitable inner tube. Racing grade preferred.
Various round and square steel pipes
Small pieces of flat steel
3 strong rubber feet, for example door stoppers
3 Bolts, 3 washers, and 6 nuts to attach the feet
Motor capacitors for your national voltage, probably 3x4uF, 3x2uF, 3x1uF, but better first buy the biggest ones and try out not to waste money.
Length of 4-conductor double-insulated power cable
Length of 3-conductor double-insulated power cable
Two screwable plastic cable grommets. Suitable thickness for the two power cables.
Single-phase power socket (female) for cable mounting
Three-phase power socket (female) for cable mounting
Three-phase power plug (male) for cable mounting
Ampermeter DC 1A. 1 piece for basic, 2 for advanced version.
Voltmeter DC 400V. You can use less, for example 100V, by measuring the instruments' resistance and adding series resistor(s) that total exactly instrument_resistance*(400V-instrument_voltage)/ instrument_voltage. Then you have to redraw the scale. The added resistance has to be precise, check with a digital ohmmeter.
Power MOSFET transistor IRFP450
Electrolytic capacitor 100uF/400V
Copper or aluminium heatsink for the transistor, massive one that can dissipate 120W at least short-term.
Bolt M3x20, countersink head
Toothed spring washer M3
Nut M3
Silicone paste for heatsink. High grade (with silver etc.) is better. Do not confuse with silicone sealant!
Diodes 1N5408, 6 pcs.
Resistor 3.3k. 1 piece for basic, 5 pcs. for advanced version
Switches DPDT (dual pole dual throw), 2 pcs, only for the advanced version.
Zener diodes with 1W rating, totaling 350 Volts. Buy more pieces with various voltages so you get several options totaling 330-370 V. The diodes don't give exactly the nominal voltage.
Wire, stranded, insulated, solderable. The insulation must hold 400V DC. Several meters of various colours.
Soldering strips, several pcs. A long rectangle of thin insulating board with rectangular holes containing solderable tin terminals. Used for connecting components and wires together. Must withstand 400 V DC between any two terminals. If not, then remove every other terminal.
Cycle computer, optional. Allows measuring shaft speed in Hz and total "distance"
Flexible plastic lid for food storage container, about 45x25cm.
Mechanics
Measure the seat post tube inclination angle.
Cut away the front part of the bike few centimeter in front of the seat tube
Bridge the corner of tubes at the rear axle with a piece of flat steel
Weld a piece of section to the bridged corner to get away from the derailleur
Weld a triangular stand. Make sure the bike is perfecly upright, the seat post tube angle is preserved and it's possible to take out the wheel
The motor holder contains two parallel sections and a third one that is attached by threaded bars. These three section clamp on two parallel square tubes that are mounted to a joint behind the seat. This way the position and alignment of the motor can be adjusted.
Weld a post behind the seat and mount the derailleur levers on it.
Clean the bicycle chain with the cleaning kit.
Install a piece of plastic lid on the motor assembly to prevent another person from putting a hand between the motor and the tyre.
Electronics
Select the schematic. Basic version has no switches, less capacitors. Advanced version has 2 switches to configure the excitation capacity plus an extra current meter for overvoltage protection current.
Think about how to place the components, connection strips, meters and the heatsink into the large plastic box. Make sure the heavy capacitors will be at the bottom.
Drill a 3mm hole in the middle of the heatsink and make a conincal depression for the countersink head.
How to make large holes in the plastic: Drill series of small holes along the outline and cut the bridges over with wire cutting pliers. Then use a set of small files to trim the final hole shape.
Install all the components including cables and connectors and connect them according to the schematic. The earth protect (E/PE, green-yellow) conductor should have as little soldered joints as possible and no screw joints except in the sockets. Put silicone paste under the transistor on the heatsink and tighten with M3 bolt, spring washer and nut. For the basic version, install only the biggest capacitors. Please note the pictures are missing the overvoltage protection and connection strips.

Make sure the earth protect (E/PE, green-yellow) conductor has all solder joints double. That means if one of them breaks, the other is still functional.
Install a cable to the motor. Make sure it's doubly insulated along the whole exposed length. If you don't know the colour codes for phase, null and protective earth for your country, ask an electrician or qualified person. The earth protect is to be soldered on an eyelet and caught under a bolt head with a toothed spring washer.

Wire colour codes for Europe

| | | |
| --- | --- | --- |
| P | Phase | Black or brown |
| N | Neutral | Blue |
| E, PE | Protective Earth | Half green, half yellow |

Install a 3-phase plug on the end of the motor cable. Neutral (N) is not connected. The 3 phases coming from the windings can be in arbitrary sequence. The wire with the eyelet goes into Earth Protect (PE,E).
Safety First
Check that there is no gap in the double insulation of the wires entering the motor. An exception is the protective earth wire which is connected to the motor chassis.
Check that the protective earth hole of the output socket is connected directly to the motor chassis or under a bolt that's attaching the motor. Connection to the bike chassis is not enough! Check that the connection contains a toothed spring washer.
Never run the machine with the plastic box or sockets disassembled!
Check once again that the three-phase connector has plug (male) on the motor end and socket (female) on the plastic box end. Having it the other way would be dangerous.
Make sure all the screw connections on the protective earth wire (E, PE) wire are tightened properly. Make sure all soldered connections on this wire are soldered in two places so that when one breaks apart, there is still reliable connection.
With machine standing still, measure the protective earth hole of the output socket against the motor chassis with an ohmmeter and check it's under 1 Ohm. If you are not sure which hole is protective earth, plug a PC into the output socket and the protective earth will be on the chassis of the PC.
Ask someone to watch you for safety. Crank up the machine without load and increase the voltage until it either doesn't grow anymore (protection kicks in) or reaches 400V. The protection shouldn't allow the voltage to climb over 330-340V. Adjust this by replacing the Zener diodes (D7, D8) with a different voltage combination. You may need lower protection voltage when in U.S. and using switched mode PC power supply that is not universal for Europe. Universal supplies have 100-240V A.C. printed on them.
Never experiment with the output voltage - putting nails into sausages or pickles, trying to pull electric arc or trying an electrolysis is dangerous!
Do not connect the 3-phase plug into mains. The wheel would start turning by itself and that would be an injury hazard!
Use only cables with safety approval for ordinary mains - i. e. hooking up a lightbulb on singly insulated wires is hazardous!
You are protected against dangerous internal failure where lethal voltage could appear on metallic parts of the bike or connected equipment. In such case the voltage will be short circuited and the generating process will immediately shut down.
Another safety advantage is the usage of D. C. current. According to Wikipedia: Electric Shock, 60mA AC or 300-500mA DC is necessary to induce heart fibrillation, which can be fatal.
The ultimate safety advantage is, should you get a shock, the machine is suddenly overloaded plus you immediately stop pedalling. This reduces the duration of the shock only to a split second.
Adjusting the capacitors (basic version only)
If you need to pedal too fast and the output voltage is too high, then increase the capacity. If you need to pedal too hard to get ordinary voltage for your appliance and the motor heats up a lot, decrease the capacity. You don't have to buy different capacity, you can solder capacitors in parallel.
Handling of Incandescent Light Bulbs
It's impossible to start the machine with an ordinary incandescent light bulb connected. Such a bulb eats 10 times more power in cold state than hot. The generator is then overloaded and the induction doesn't start. You have to disconnect the light bulb, get voltage and then connect it back.
TV Sets
I tried a small TV set (35W) but the machine didn't start even when pedaling hard and when I connected the TV to a running machine. I believe the demagnetizing coil inside has to be disconnected. This coil eats a lot of current when the TV is turned on. But I didn't try.
Exciter can be used to power a TV in a remote cottage where electricity is not available. Sitting in front of a TV for a long time is unhealthy except for pedal-powered TV's ;-)
Furniture Adjustment
I recommend to place an old rag under the machine if you have a sensitive floor.
It's necessary to get a table that is high enough because one is sitting higher than on a chair, like on a bar stool. The table also has to be strong so that the computer user can prop against it to relieve the pressure on the saddle. You can probably imagine that riding a bicycle for a long time without holding the handlebar is uncomfortable for the butt.
The solution I use are IKEA racks from natural wood. They are cheap, can serve as a storage space and small workplace at the same time, and the height is completely adjustable. But their depth is suitable only for a laptop, not for a PC with a monitor. These racks have to be attached to wall to be safe. Here you can see a temporary installation with these wooden racks:
Frequency and Distance Measurement
A cycle computer can offer input (motor shaft) frequency measurement and total pseudo-distance. Set the wheel circumference to 0.8727m*wheel_diameter/motor_drum_diameter. Switch the computer to show speed in km/h. Then what the computer shows in km/h is actually shaft speed in Hertz. The electric frequency is somewhat smaller than the shaft frequency for 2-pole motor or somewhat smaller than twice the shaft frequency for 4-pole motors. The difference depends on current load therefore it cannot be pre-programed into the cycle computer.
To get the real distance the bike would ride if touching a road, take what the computer shows, multiply by the motor drum diameter and divide by 8.84cm.
Slip-through
If the weight of the motor is too low and the electric load is high, a slip may occur. It can manifest as a whistling sound. Or an increase in pedalling speed is suddenly possible while the machine doesn't give more voltage. Clean the tyre with a rag. If it doesn't help, weight up the motor with 1-2kg, like a small dumbbell disk etc. Do not weight up too much, it increases the friction and motors don't have their bearings designed for high load.
Nutrition hints
Drink enough
Instead of few big meals, eat more little ones. This allegedly reduces the accumulation of fat.
Stop eating before you feel you are full. The full stomach signal is allegedly delayed to the brain which allows overeathing that's not noticed during the meal itself.
Make sure you don't get underweight. The definition of underweight varies and is usually defined by Body Mass Index, BMI. Anorexia nervosa (obsession with reducing weight) is a dangerous condition that can lead to death! If you want to get rid of more fat than what BMI allows, then you first have to get more muscles, e. g. by strength training in a gym or some other, usually anaerobic sport.
Make sure your nutrition contains enough of all substances needed by your body
Do not often eat Empty calories and junk food.
Fat can be additionally controlled through regular Weight training, which increases the idle energy consumption of the body.
What Wikipedia says
"An exercise bike has been a long time favorite in the rehab clinics because of the low-impact cardiovascular exercise it provides. It allows you to perform safe, as well as an effective cardiovascular exercise. The low-impact movement involved in operating an exercise bike does not put much stress on your joints and does not involve herky-jerky motions that some other fitness equipment may require.
The latest use of indoor stationary bikes is as an option for beating obesity. A video game console has been adapted to display a "game" of a cyclist in a race. The in-game speed of the rider is determined by the actual movement of the pedals on a stationary bike, therefore, providing an added incentive for hard exercise in the form of competition. "
--Wikipedia, Exercise Bicycle
Technical note - overvoltage protection transient response
The overvoltage protection used to fail repeatedly. After ruling out possibility of overheating by installing a massive heatsink, it was observed to fail at voltage as low as 100V. So we assume it was because of oscillation.
First we added a 100nF capacitor between gate and source. It helped a lot, but not during a situation where a large load is suddenly disconnected and the voltage rises quickly. Therefore we added additional resistor 470 Ohm in series with the zener diodes. This slows down the overvoltage protection significantly, we hope it prevents oscillations altogether.
This poses a problem - what happens if the load is quickly disconnected? The inductance of the windings tries to keep the current the same so the excitation capacitors start getting charged quickly. Is even the slowed down overvoltage protection able to react in adequate time to not exceed 357 V on the output?
The transistor starts conducting 0.5 Ampere at about 4.2V on the gate and then it goes very quickly up - see the datasheet. The difference between 340V (maximum voltage that the overvoltage protection permits) and 357V (maximum voltage that the load is allowed to get) is 17 volts. We can see from the graph that when the input voltage difference climbs to 17 volts (0.2ms), the transistor is already wide open (11V). The threshold 4.2V is actually reached in half the time - 0.1ms. The graph is now upgraded for 100 Ohm which were put there after trying out that the 470 resistor didn't prevent failures on turning fluorescent lamp off.
The current 0.5A at 340V corresponds to power of 170W. We managed to get maximum 120W out of Exciter.
After we implemented the protection, it was easy to kill the transistor again on the first try. The procedure was to take a fluorescent lamp that starts by heating the filaments, turn it on and then start pedalling fast. Then turn it off before it has started. The only remaining explanation is now that the fluorescent lamp contains some kind of inductance for starting and produces a high voltage spike when disconnected and reconnected again during the starting proces due to ringing of the mechanic switch in the lamp where the flourescent bulb is installed. The process can be: disconnect - high voltage build up internally. Reconnect - high voltage is applied to the line conductor. Then this high voltage ispike could trigger an avalanche through the dv/dt mechanism.
Therefore I decided to add output capacitor 100uF/400V to catch any spikes coming from the connected load which could damage the apparently hypersensitive MOSFET transistor. I also decreased the 470 Ohm resistor too 100 Ohm to reduce the slowdown, since this resistor didn't help to prevent this failure mode.
References