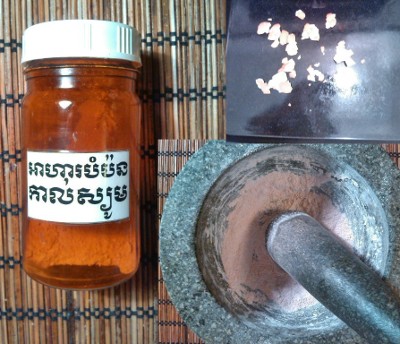 Twibright Calcium, an open source nutritional supplement
Provides a nutritional supplement that:
Prevents calcium deficiency common in Cambodia
For children, prevents bone deformities and seizures
For elderly and adults, prevents bone fractures
Is cheap
Made from natural material - egg shells
Utilizes kitchen waste - egg shells
Is based on calcium carbonate
User testimonials
"
That's good intention" -- Bunna Chhut (ឈុត ប៊ុណ្ណា), Cambodia
Check your calcium levels
Fill out this PDF table how often you eat each calcium rich food and see if you get enough calcium or not. Cultures who don't eat a lot of milk products generally have calcium deficiency.
Requires
Small empty plastic or glass bottle or jar with a lid from medicine, food etc. Which has not been used to store chemical products.
Funnel, only if the bottle is too narrow to be filled with a teaspoon
A little bit of brand dishwashing detergent (do not use dubious noname products).
Egg shells from kitchen. Not pulled out from garbage! 2 egg shells gives you supplement for about 3 days.
Blender with coffee grinder attachment (fast) or a kitchen mortar (slow)
Clean cooking pot
Kitchen stove
Means of drying: kitchen oven, electric or gas, do not use microwave. Or kitchen stove with a frying pan or saucepan. Or a clean place in the sun, or simply a clean dry place to dry out naturally.
Printer or access to it
Paper for printer, 1 sheet
Scissors
Transparent scotch tape
Work time: 1 h 20 min for monthly supply for 1 person 3-50 years (40.5 g elementary Ca or 107 g powder). Production rate: 30 g elementary Ca / hour = 79 g powder / hour.
Waiting time for egg shells to collect accordig to collection method below. 19 chicken egg shells are needed for 1 month supply for 1 person 3-50 years.
Manufacture
Collection of egg shells
When cooking, gather egg shells in open bowl or space, so that they dry out if left for longer. Do not pull egg shells from garbage because mold in garbage can produce toxins causing cancer.
Wash bottle
If the bottle is not clean, wash it now and place for drying.
Check for mould
Take shells one by one and check for mould or heavy soiling.
If the shell has even a little mould on it, throw it away
If the shell is heavily soiled, throw it away.
Otherwise throw it into the clean pot.
If full you can crush the shells roughly to fit more, but later when we crush them completely, they shouldn't reach over 50% pot height.
Do not crush shells finely now because that motion will be used for washing later.
Washing
Fill cold water over the shells in the pot. Add a bit dishwashing detergent. Crush and wring the shells underwater and possibly add detergent if it stops making foam. Crush and wring kinda like if you are washing clothes. Stop crushing and wringing when the egg shells are broken into small pieces (5 mm - 10 mm). The small pieces can still be connected by the membrane that's not a problem.
Replace water and detergent
Pour the water out
Put in fresh water to cover the egg shells
Add a bit dishwashing detergent
Stir
If you don't do this step, you might feel like flu every time you eat the product
Soaking
Let stand, min. 10 min., typ. 1 h, max. 3 h
Rinse
Repeat the following procedure 6 times in total:
Stir the shells well
Pour the water out
Fill in new water.
Sterilisation
Boil the water at small boil for 5 minutes. The water may foam and spill due to residues of egg white.
Drying
Pour water out and throw away foam gathered on the walls of the pot. Dry in oven at min. 100 typ. 120 max. 140 degC or minimum setting for gas oven. Or use other method until completely dry.
Tricks to speed up hand grinding in a mortar

Put smaller amount into the mortar at a time
Switch hands each time your hand gets tired.
Blender Grinding
If you have a blender, fill the grinding attachment completely and run for 20 seconds, then take the attachment out of the blender, shake it vigorously, reopen it and reclose it, shake vigorously again, grind another 20 seconds, take out and shake vigorously.
Mortar Grinding
Grind into as fine powder as economical for you. It requires effort and time. Coarse powder will not damage teeth, because is softer than teeth enamel. But it may cause unpleasant grinding in mouth.
Bottle Label

Print and cut out this label
Glue the label
Make sure the outside of the bottle is dry. Glue the label on the bottle using the transparent scotch tape.
Fill the bottle
If the inside of the bottle is not completely dry, wipe it dry. Fill the powder.
Usage
As per the bottle label:
| Age | Dosage |
| --- | --- |
| 0-1 | Do not use. Breastfeeding mother may use instead. |
| 1-3 | 1/4 teaspoon mixed into food twice a day (total 1/2 teaspoon a day). Or, 1/2 teaspoon with 2 teaspoons lemon juice once a day. ( 675 mg Ca / day) |
| 3-50 healthy kidneys | 1/2 teaspoon mixed into food twice a day (total 1 teaspoon a day). Or, 1 teaspoon with 4 teaspoons lemon juice once a day. ( 1350 mg Ca / day) |
| 50-older, healthy kidneys | 1/4 teaspoon mixed into food twice a day (total 1/2 teaspoon a day). Or, 1/2 teaspoon with 2 teaspoons lemon juice once a day. ( 675 mg Ca / day) |
| 3-adult with kidney disease | Ask your doctor, or if you can't afford asking, take the dosage for 1-3 years |
Consumer Support
Technical data
Bulk Density: roughly 0.7 g/mL (estimated from Internet source)
Elementary Calcium content: 380 mg / g or roughly 270 mg / mL
Color: white
Taste: tasteless or slight unspecific taste
Composition: about 90% Calcium Carbonate CaCO3, rest harmless sterilized dry organic residue from egg shells (protein etc.)
Hygroscopic: No
Production rate using mortar: 30 g elementary Ca / hour
Production rate using a blender with coffee grinder: much faster
Price comparison
The following table is assuming a person 3-50 years with healthy kidneys, taking 1350 mg Ca (elementary calcium) as a supplement per day:
| Country | City | Shop | Product Name | Product Form | Dose | Number of doses | CaCO3 per dose [mg] | Elementary calcium per dose [mg] | Price per package [USD] | Price per day [USD] | Price per month [USD] |
| --- | --- | --- | --- | --- | --- | --- | --- | --- | --- | --- | --- |
| Cambodia | Phnom Penh | Smile | DRx CHOICE EXTRA STRENGTH Antacid Tablets Antacid / Calcium Supplement | Chewable Tablets | 1 Tablet | 44 | 750 | 300 | 2.00 | 0.21 | 6.14 |
| - | - | - | Twibright Calcium | Powder | 1 tsp = 5 mL = 3.55 g | 1 | 3375 | 1350 | 0.00 | 0.00 | 0.00 |

Scientific information
Credits
Bunmeang Olaf (1 hour): Discussing and proofreading the Khmer label content. Consulting availability of tools in Cambodia. Translation of text.
Bunna Chhut (45 min): Consulting availability and price of materials and tools in cambodia. Transcribing Khmer text. Helping with Khmer translation.
Chiv Pheng (30 min): Translating the leaflet
Florian Walder (15 min): providing gas and microwave oven for drying process testing
Ngoun Vy (15 min): translation EN -> KH
Europe Guest House in Phnom Penh: providing a kitchen, mortar, pestle, plate, spoon and washing to test grinding in a Cambodian kitchen. A tip for a copy shop. Providing a kitchen for a complete manufacture of Twibright Calcium.
បាញហា: helping with transcription of Khmer text (5 min).
Roarthar from Restaurant 126: egg shells
If you want to express thanks for this product
If you want to express thanks to Twibright Labs please donate to Twibright Distillcooker.