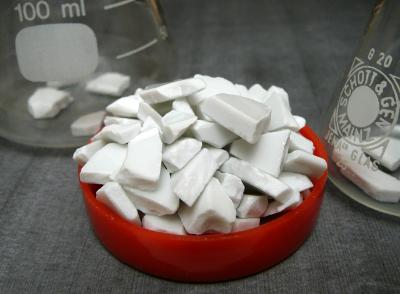 Twibright Boiling Stones
Provides
Quite chemically inert white porcelain boiling stones (aka boiling chips) suitable even for chemical processing of food, pharmaceuticals, and cosmetics.
Requires
Large stone mortar. If not available, replacement with hammer and anvil or even two stones is foreseen (but untested).
Cheap white porcelain bowl or plate with minimum print or colour (will be destroyed)
Plastic plate (tested) or porcelain plate (untested).
Safety glasses or at least ordinary glasses (tested) or sunglasses (untested)
Work gloves if minor scratches are not tolerated
Water
Plastic cup or box with watertight lid
Manufacture
Remove any stickers or sticker glue from the bowl
Wash the bowl
While wetting the porcelain with water, smash the bowl and remove pieces with print or colour. I believe porcelain dust causes permanent damage to the lungs and wetting prevents its formation reliably.
Try to smash the porcelain into pieces as big as the fingernail of the smallest finger. When the highest amount of these pieces in mortar is reached, stop.
Pour the content of mortar with water on the plastic plate.
Shake the plastic plate
Pick up oversize pieces back into mortar
Pick up the pieces and throw into the plastic cup until all what is left is undersize.
Discard the undersize.
Repeat with the oversize pieces in the mortar until no oversizes are left.
At this point there is no oversize anymore.
Pour the content of plastic cup with water onto the plastic plate
Shake plastic plate
Collect pieces into plastic cup again until all left is undersize
Discard undersize and repeat until no undersize is left
At this point all boiling stones have the desired size.
Fill the plastic cup with the boiling stones with water and close and shake for 1 minute. This will chip off edges that have tendency to fall off
Repeat the filtering procedure to get rid of the small chipped pieces of edges
Rinse with water
Let dry
Congratulations your boiling stones are ready now!
Usage
Put into liquid before boiling to reduce violet bumping and splashing during boiling
Boiling stones may or may not be reused depending on usage and desired purity. Porcelain is porous and can absorb some chemicals which may or may not release upon washing.