Combined drinking water distiller and thermostat cooker
| | |
| --- | --- |
| 938.07 CHF | remaining: 1641.26 CHF |
Please donate to get the project released.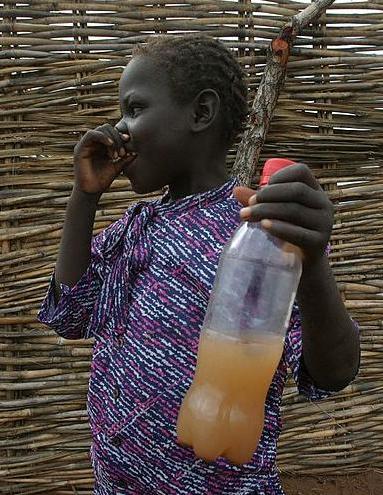 Unsafe drinking water | photo: Pierre Holtz - UNICEF, CC-BY-SA.
Distillcooker is an open source thermostat cooker that distills drinking water as a byproduct of operation. Apart from giving a high quality drinking water even from the worst sources like contaminated or smelly water or urine, it also alleviates the burden of attending to cooking, because it never scorches or boils over. 0.8 billion people (every 9th) still don't have safe drinking water!
Can be built by a layman in 37 minutes, from upcycled trash and easy to get components, for material cost of $15. It can be sold on local market and it's easy to sell by post, potentially giving work to unemployed.
For building by laymen consumers in rich and poor countries
Can be built by a layman in 37 minutes, for material cost of $15.
From upcycled trash and material easy to get worldwide, reuses items already present in household without modifications – these can be still normally used.
Extremely high water quality, removes almost everything: infections, hormones, toxic metals, toxic anions, organic pollutants and chlorination byproducts. Safety of drinking distilled water proven by detailed analysis and dietary recommendation.
Cooking generates byproduct of 1.3 L distilled water per person and day at a cost of $0.07/liter. More distilled water can be generated at a cost of $0.25/liter.
8-9 times more energy efficient than ordinary distiller (theoretical).
No scorching of food, no boiling over even when left indefinitely without attendance. Better preservation of tastes.
Cooking functions: reheating food, rice cooker, simmering, making tea, boiling drinking water over, double boiling cooking method, double steaming cooking method, boiling down liquids, drying, melting, heating water for bathing,
Building and sale freely allowed under the Creative Commons CC-BY-SA licence, no payment or registration needed, small and lightweight package for shipping.
Developed by Karel Kulhavý of Twibright Labs with 16 years of experience, 3 scientific articles, 26 citations, and 2000-4000 installations of a major product in the area of freely published DIY manufacturing technology.
Can produce emergency drinking water from urine.
The development is completed, cost $2'900. Preview:
The cost of development was 2'579.33 CHF (cca. 2'900 USD, 2'110 EUR, or 1'730 GBP)
The technology is ready for release, developed, production device physically built, tested.
A complete manual (preview PDF, 63 pages) is ready for publishing. It will be released here under Creative Commons BY-SA free licence as soon as the donations cover the cost of development.
Please donate - a larger contribution gets it released sooner!
Europe: Bank transfer, no/low fees in EU (SEPA): IBAN: "CH51 0070 0113 7000 6508 1", BIC (SWIFT-Code): "ZKBKCHZZ80A", Recipient name: "Karel Kulhavy", Recipient Bank: "Zürcher Kantonalbank, Postfach, 8010 Zürich".
US: Western Union:

| | | |
| --- | --- | --- |
| Fee | Donation | Cheapest sending from |
| $0.99 | $1.00-$10.00 | credit card, bank account |
| $1.99 | $10.01-$20.00 | credit card, bank account |
| $5.00 | $20.01-$50.00 | credit card, bank account |
| $5.00 | $50.01-$1000.00 | bank account |
| $0.00 | $1000.01-2999.00 | bank account |

Destination country: Switzerland, IBAN: "CH51 0070 0113 7000 6508 1", Recipient name: Karel Kulhavy, Bank name: Zürcher Kantonalbank, Bank city: Zürich
MoneyGram, fees typ. $5-$11. Recipient name: Karel Kulhavy, destination country: Switzerland.
Bitcoin is temporarily disabled because I have difficulties in converting it into fiat money.
Please include your desired listing name or anonymous random identifier. This guarantees transparency. If you cannot include that in the transfer, you can send it by e-mail:
List of donors
Name
Amount [CHF]
Assignment
Further info about the donor
anonymous1
183.94
=4140 CZK
Unassigned
Jan Molič
121.35
Unassigned
kitty bern
100.00
Unassigned
Andreas Rudin
93.88
=28.09 kg food
Unassigned
Jim Forster
61.02
=50 EUR
Unassigned
Hana Hefe
50.00
Unassigned
From Zurich
Michal Fiala
48.40
=40 EUR
Unassigned
From Brno
Matthew Toseland
46.86
=25 EUR
+10.94 GBP
Unassigned
anonymous23
42.00
Unassigned
Praha12.net: Guli, Křepa
35.25
=793 CZK
Unassigned
Ludwig M.
30.00
Unassigned
ThomasEgi
24.15
=20 EUR
Unassigned
Karel Sybera
21.75
=500 CZK
Unassigned
Pavel Hrnčíř
20.00
Unassigned
Wolf Creek Scientific
12.20
=10 EUR
Unassigned
www.wolfcreekscientific.com (not available anymore)
Jan Matyas
11.11
=250 CZK
Unassigned
www.janmatyas.net
Daniel M.
10.00
Unassigned
Claude Knaus
10.00
Unassigned
HonzaS
8.93
=201 CZK
Unassigned
Motodum.cz - navigace, minibike, ctyrkolky a dalsi
Alejandro
7.20
=0.8 kg cheese
Unassigned
www.computergarage.ch
Barix AG
0.03
=0.76 CZK
Unassigned
www.barix.com
unknown
0.00
=0.00671907 BTC
Unassigned
Haven't converted into fiat money yet because of difficulties in conversion.
Unassigned is 938.07 CHF. Total of the gifts is 938.07 CHF.
The contributors "Praha12.net: Guli, Křepa" and Barix AG donated higher amounts to Ronja, but were partially unassigned, so they were transferred to Distillcooker.
Reference to previous project
On the donors page of the Ronja project you can see 4 designs released and all 100% covered by donations from 39 people and companies, totalling 68'312.21 CZK (cca. 3'410 USD, 2'490 EUR, 3'040 CHF, or 2'030 GBP).
Photo in Twibright product list: elise.y/Flickr CC-BY.